Aesthetic Notion templates are Notion pages that have been specially created to offer your Notion workplace a lovely and distinctive look.
A template may be made to appear attractive in a variety of ways using various styles. Each person will have a different choice between brightly colored themes and elaborate typography, or more simplistic designs.
Aesthetic Notion Templates & Theme Ideas for 2023
You may get a collection of both paid and unpaid beautiful Notion templates for students and personal productivity in this post.
At the conclusion of the article, you will also learn the fundamentals of how to make your Notion templates aesthetically pleasing.
On our marketplace, you may find other Notion templates if you're looking for more. Check out our pick of the top Notion templates for your personal life as well.
Below, we'll go over the 35 best Notion aesthetic templates, which we've split into several categories including:
Free aesthetic templates
Aesthetic templates for students
Aesthetic templates for journaling
Notion dashboard templates
Aesthetic Notion templates for school
To find the perfect aesthetic template list for your needs, keep on reading.
Best Aesthetic Notion Templates
Aesthetic Homepage & Dashboard Templates
The All-In-One Personal Hub for Anime
With the Anime Cafe Dashboard, you can find everything you need for your life in one location! Walk into your personal virtual café every morning for everything you need with its 15+ pre-built templates, which range from habit monitoring and a daily journal to a recipe planner, moodboard template, trip planner, watch list, study zone with Pomodoro, and much more.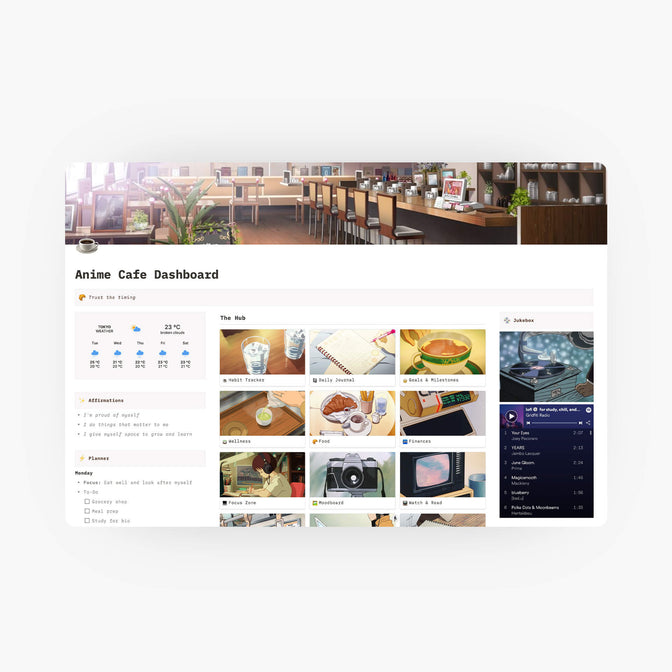 Retro Pink Life Dashboard
The functionality and beauty of this classic pink dashboard are equal. The template comes pre-decorated for any pink or analog aesthetic fan and will help you methodically manage your work, objectives, to-dos, and health.
Notion Personal Growth Planner Dashboard
With the help of this template, take your Notion dashboard's presentation of your personal growth journey to the next level. With a personal profile, a self-reflection journal, to-do lists, mood playlists, and more, bring all facets of your self-improvement journey together.
Notion Life Planner Dashboard
With a relaxing neutral and bohemian appearance, this Notion life planner is packed with features. A lifestyle planner, a section on health and fitness, a gratitude diary, a vision board, and much more are included.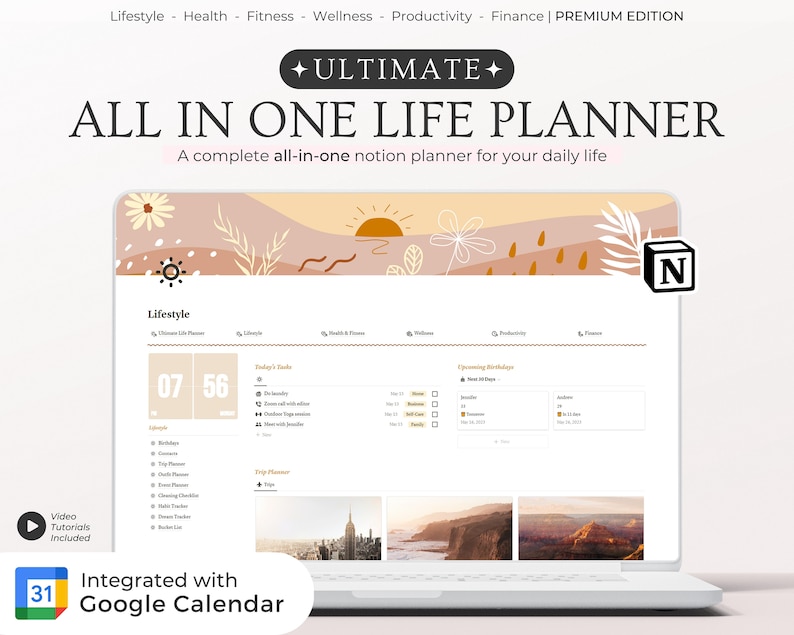 Aura Gradient All-in-One Notion Dashboard Template
The TikTok-famous Aura Clock Screensaver is only one of the 15+ pre-built templates included with the Aura Notion Dashboard, which also includes a gorgeous, relaxing dashboard. For the most aesthetically beautiful method to keep track of the time, this dashboard even includes a live Aura Clock widget.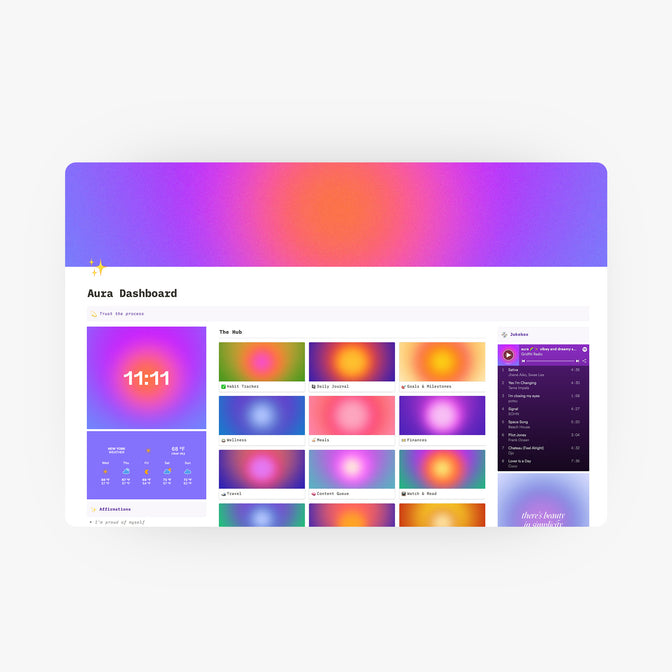 Aesthetic Student Templates
Being organized and staying on top of your academics is crucial if you're a student. We'll discuss a few of the greatest and most attractive templates for students on Notion below. We looked at various free artistic Notion templates for students in addition to some expensive ones to give you a selection.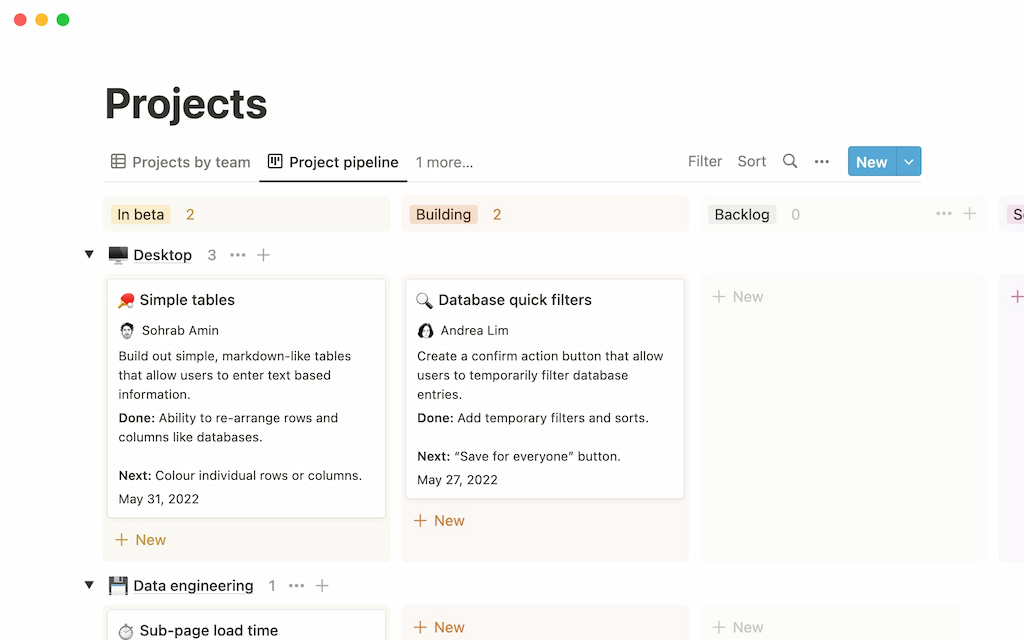 Notion templates for students may be found without having to search for independent developers. Consider the Projects of Notion. This template works well for students who want to take control of their calendars and get more organized, even though it could come out as a little too formal.
The template may be modified so that it fits your schedule and you can simply plan out your semester as though it were a project. If you want to take control of your academics, you should absolutely give it a try as it's free.
---
Ultimate Aesthetic Dashboard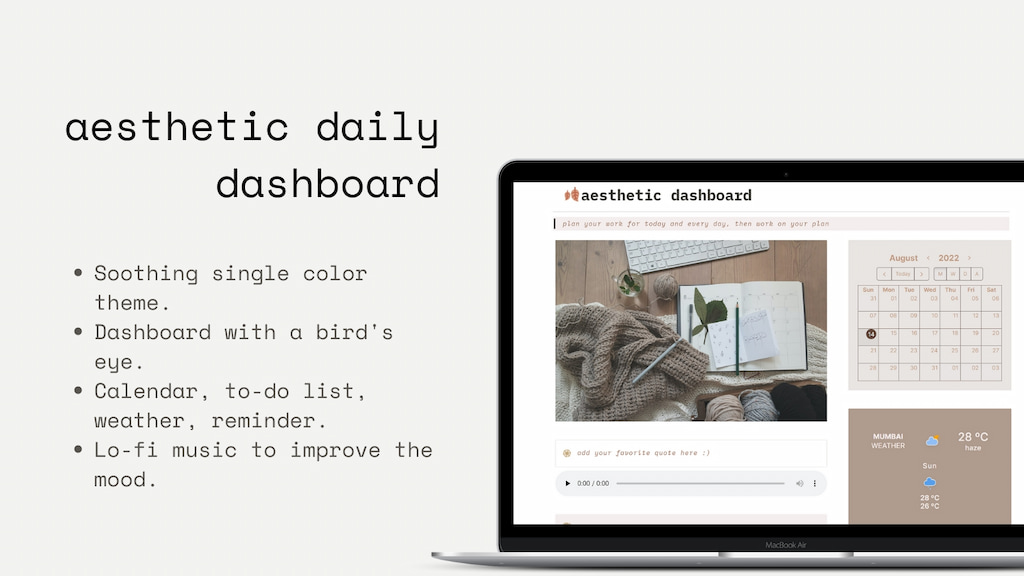 The Ultimate Aesthetic Dashboard is ideal for students and younger people looking for a cute and aesthetic way to stay organized. You may use this template to plan any element of your life, including significant birthdays, test dates, school assignments, and even social outings with friends and family. Additionally, it features a rustic appearance that makes planning your work enjoyable.
---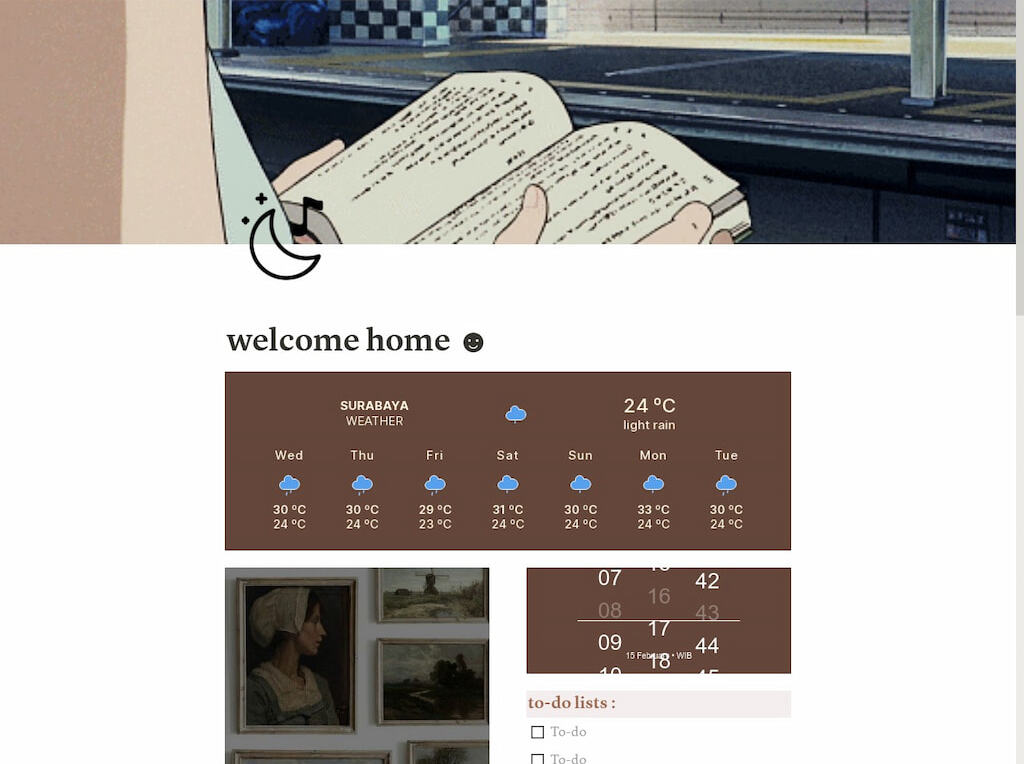 Welcome Home is a simple and beautiful aesthetic Notion template for students. This template can serve as your home base for all your tasks and important dates such as when you need to sit your exams, hand in homework, and others.
Apart from its functionality, this template's visual addition to your Notion dashboard is something we really enjoyed. You have the option to add snippets, such the current weather, a timer, your Spotify playlist, and others. All of this may relieve a lot of the tension associated with task organization, which is one of the main reasons we included this template on our list.
---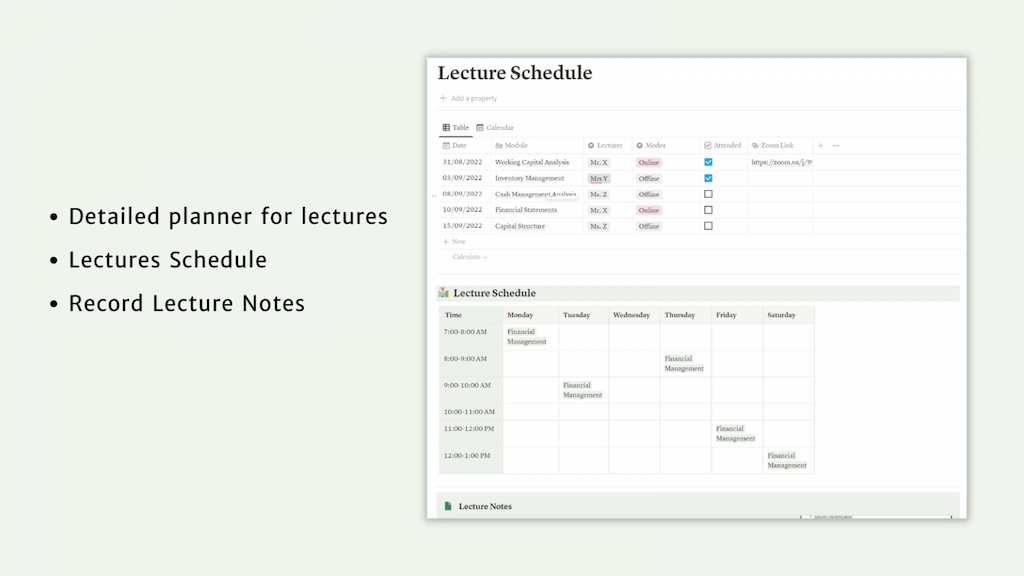 Another excellent option for students who wish to remain on top of their academics and maintain organization in an attractive and appealing manner is The Ultimate Student Hub. By using this template, you may begin organizing your studies right away and avoid spending time setting it up. This template may be used for a variety of tasks, including:
Progress tracker for assignments
Automated grade calculator
Pomodoro timer with activity stats
Job application tracking system
You can even keep track of detailed listings of on-campus events, lecture planning, a comprehensive database of all your course subjects, and more.
---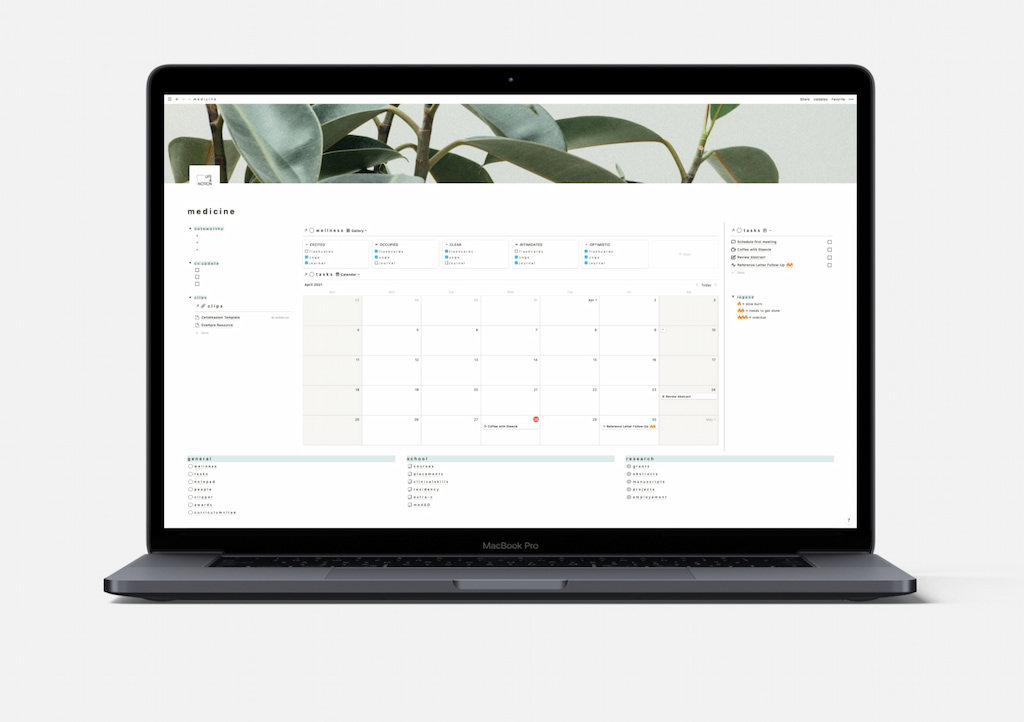 Specifically made for medical students, the Medicine aesthetic Notion template is simple, easy to use, and uniquely aesthetic. It was custom-made by an ex-medical student, meaning you can rest assured that this template has everything you need to make your life as a medical student much easier.
---
Aesthetics Student Planner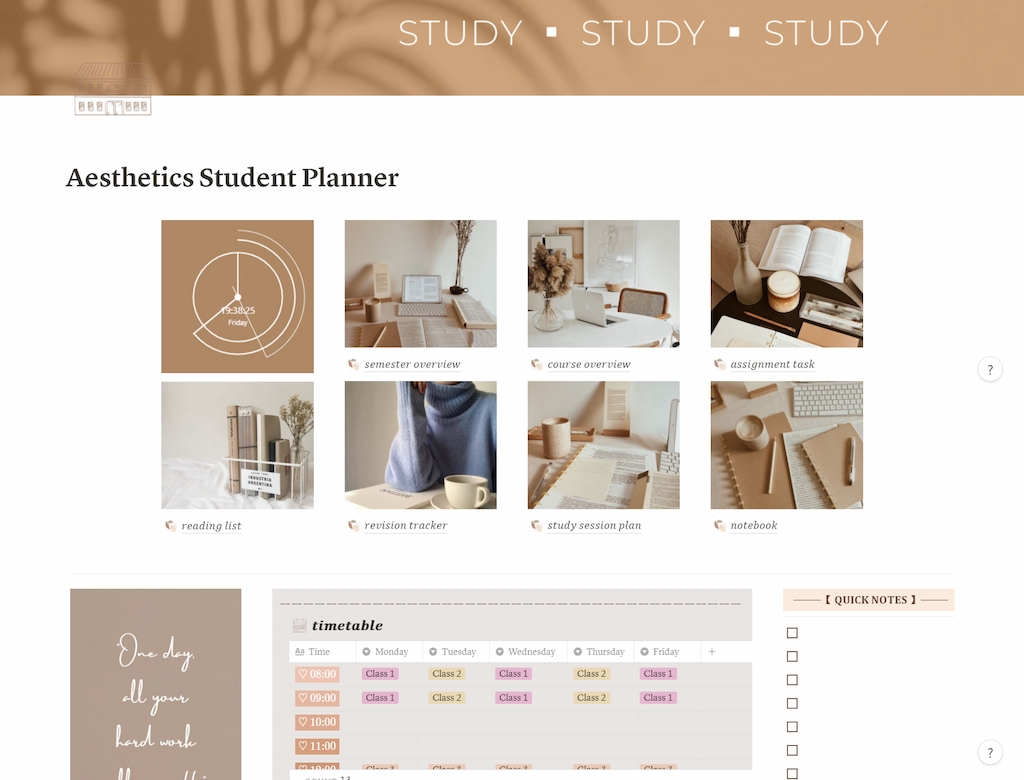 Undoubtedly one of our all-time favorite student templates is the aesthetics student planner. The wonderful look of this very straightforward planner really makes you want to use it more. Not only is it aesthetically beautiful, but it also offers the ideal setting for keeping your studies properly arranged.
Some of the key features of this student aesthetic template include a grade tracker, homework tracker, essay track, and a variety of other tools students can make use of to make their academic life a little easier.
---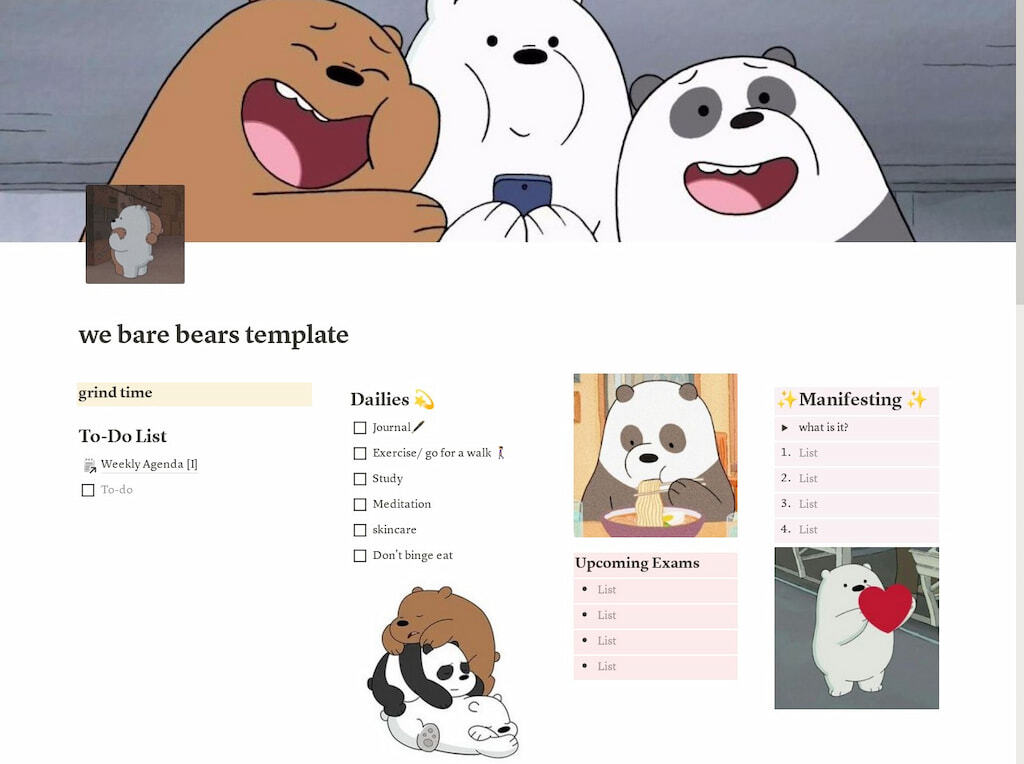 The We Bare Bears Template is a terrific alternative you should absolutely consider if you're looking for a Notion template for students that is cuter than any other.
The template is quite humorous even though it is really useful and includes all the functionality you need to make sure you keep on top of your academics. This template may suit you the best if you have a soft spot for cartoons or bears in general.
 Aesthetic Notion templates free
Let's start our list off by looking at the top free Notion aesthetic templates. You can use all of the features and functions of any of the following programs that you download for free.
Notion Personal Dashboard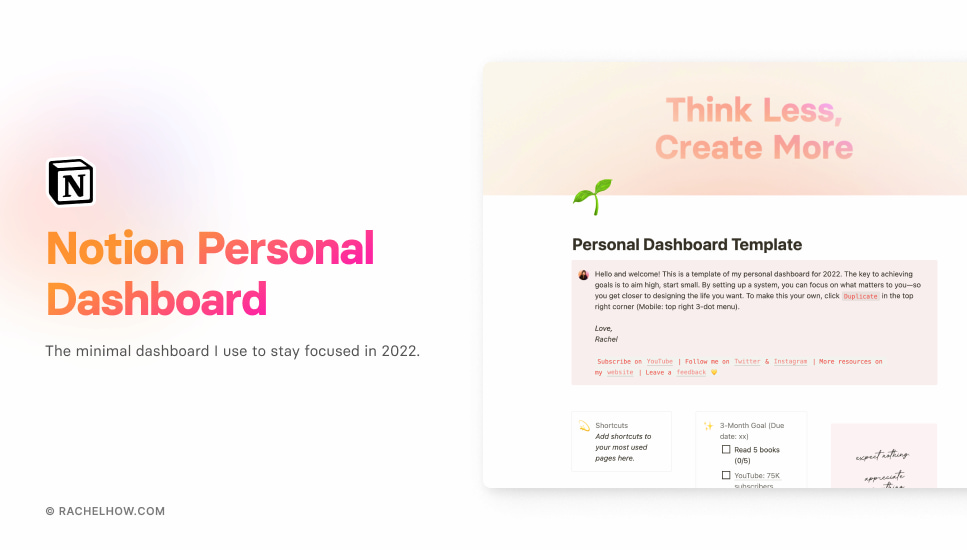 A fantastic free Notion template with a straightforward yet understandable design is the Notion Personal Dashboard. This template was created by Rachel How with the main objective of assisting you in organizing your daily duties without being distracted.
What's more, this template allows you to have a bird's-eye view of all your responsibilities for the day. If you want to do some longer-term planning, you could set up goals 3 months in advance.
---
Animedoro Dashboard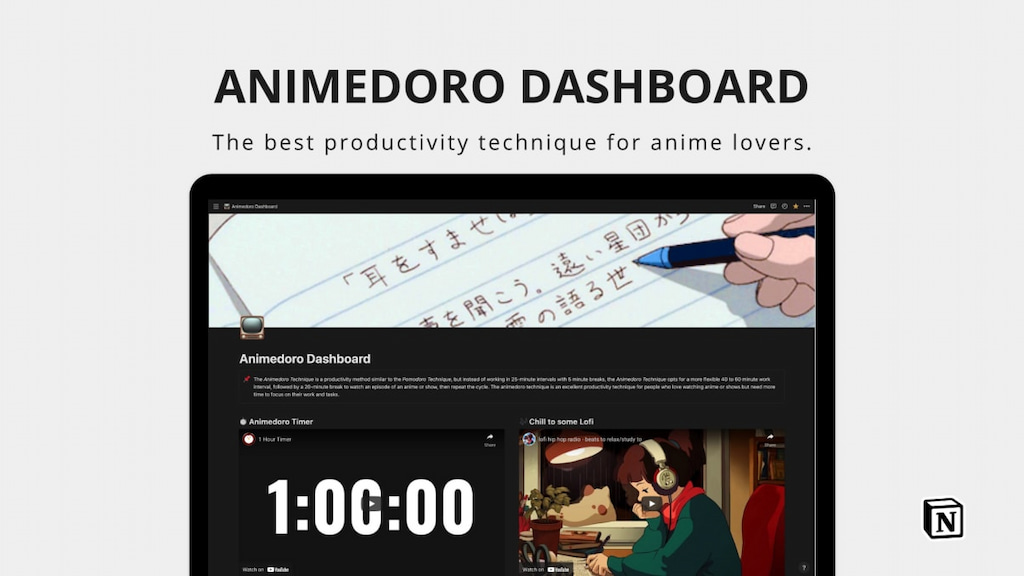 Not everyone will like the elegant Animedoro Dashboard template. Given that, if you enjoy anime art, you should definitely choose it. It makes it simpler to keep organized and includes timeless tributes to some of the greatest anime ever produced.
This design appeals to individuals straight immediately, making it much simpler to stick to your schedule and accomplish your objectives. It has had slightly over 1,700 downloads to far, making it a well-liked free template among fans of anime.
---
Notion Habit Tracker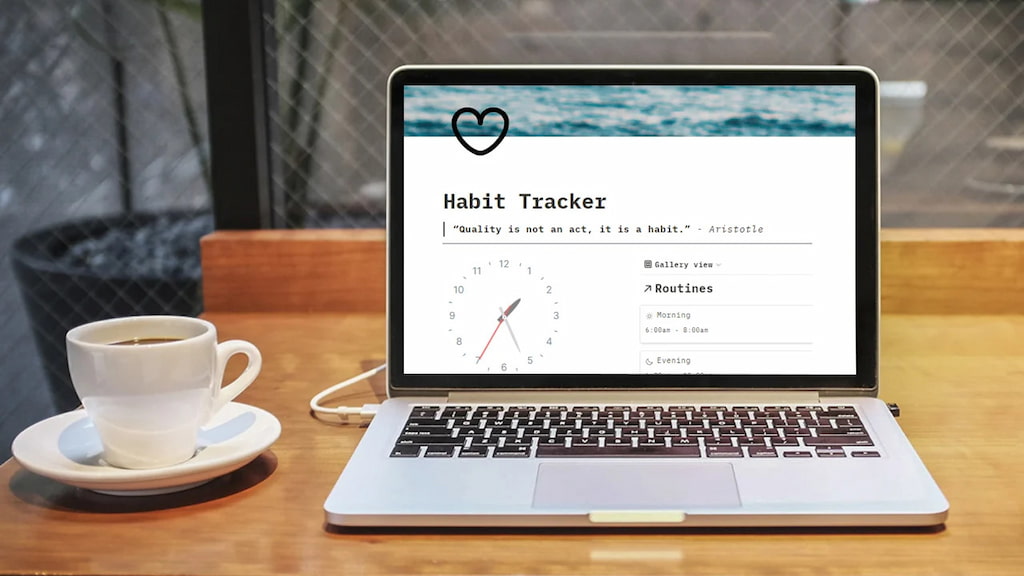 Tracking your behaviors is one of the finest methods to see how you spend your time. The Notion Habit Tracker template was created with such in mind. This template will assist you in creating everyday routines that you can follow without having to make an effort.
If you want to restart your exercise routine, increase your levels of productivity and attention, or just keep yourself on track each day, this is a terrific option for an elegant template. This is one of the greatest free Notion aesthetic templates accessible thanks to the straightforward checklist style and minimalist design.
---
My Plant Planner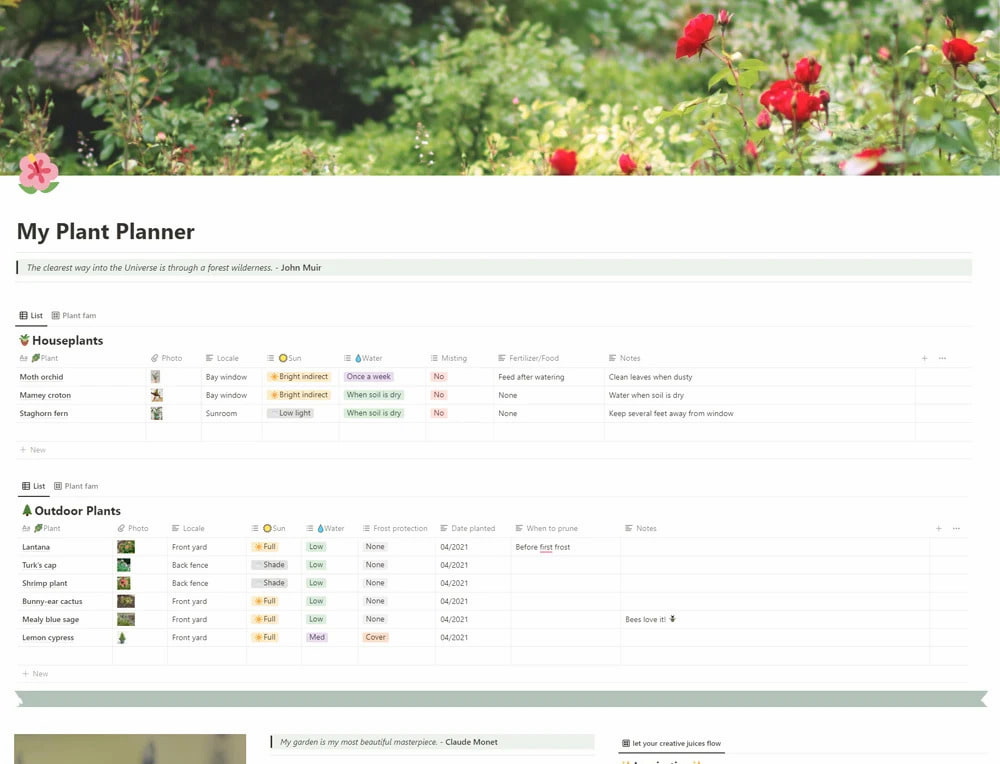 My Plant Planner is a fantastic template that can assist you in taking care of your plants if you have a green thumb. It is a free template with a garden aesthetic, making all those gardening tasks feel much more enjoyable. There are many features in My Plant Planner, so here are a few justifications for giving it a try.
You can keep track of all your plants
Keep a record of each plant's unique needs
You can take notes about your plants
Add pictures of your plants
Add pictures of your plants
You can even keep a wishlist of plants you want to buy in the future
---
Job Search for Notion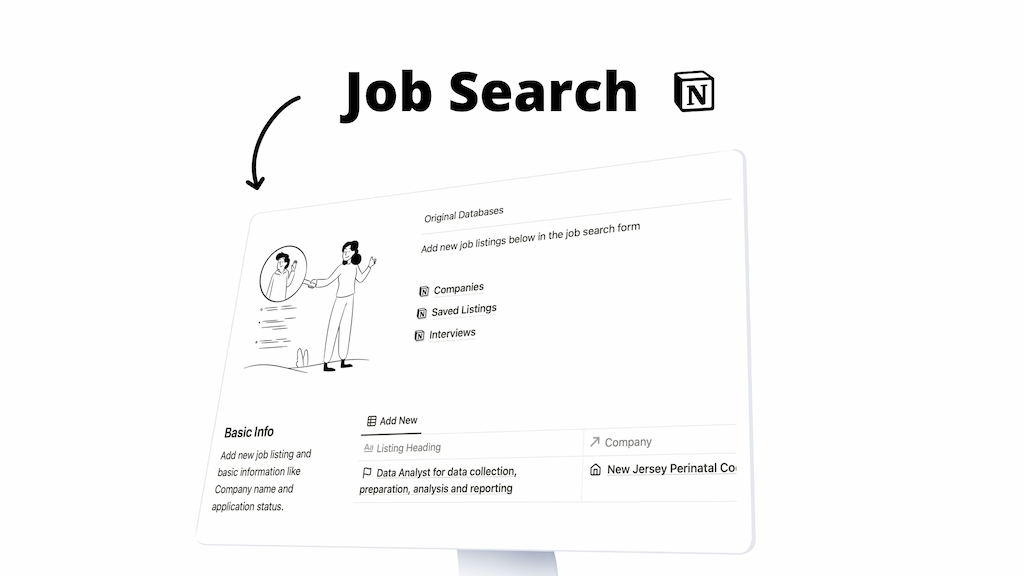 If you're looking for your next professional opportunity, Red Gregory's Job Search for Notion template is a wonderful place to start. You may use this template to keep new job openings, business details, and any forthcoming interviews you have booked. You may also save any notes you make before, during, or after an interview using Job Search Notion so that you can examine them later.
---
Tomato – Notion Pomodoro Template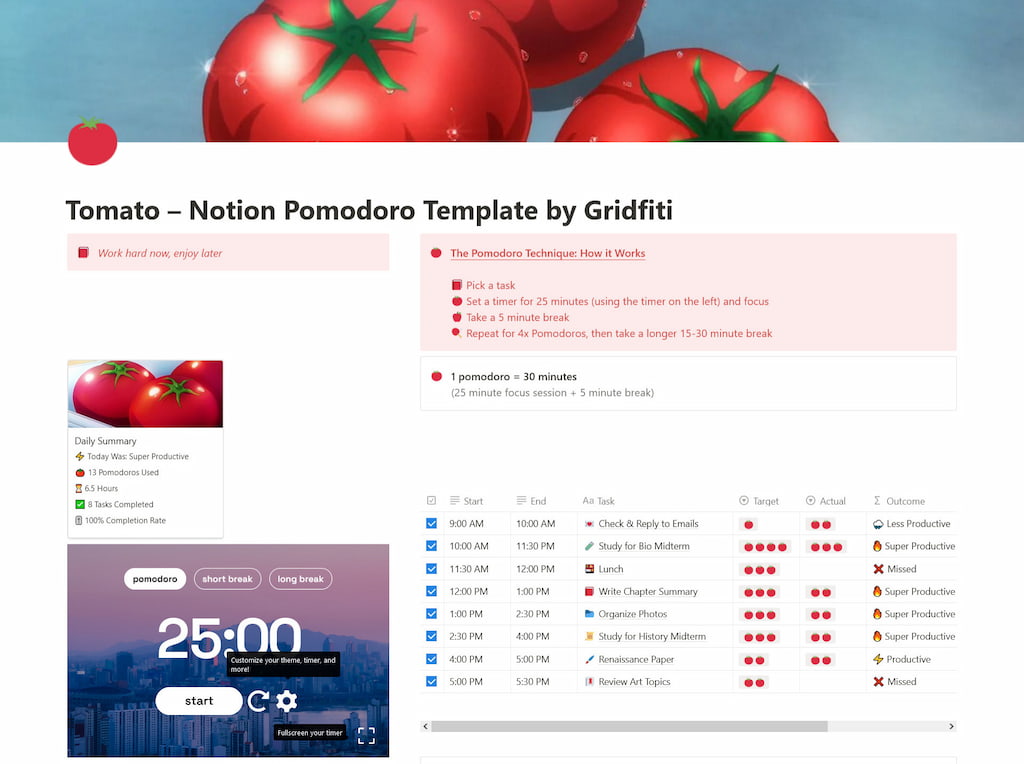 If you've tried the Pomodoro technique previously or want to start, the Tomato Notion Pomodoro Template is a great option. The Pomodoro method, which involves 25 minutes of work followed by 5 minutes of relaxation, may be used to organize chores using this template.
You will work in brief bursts and take quick rests before repeating the same action until the assignment is finished. Using this template in conjunction with the Pomodoro technique is a definite way to remain on track and develop into your most productive self.
---
Notion Grocery List Planner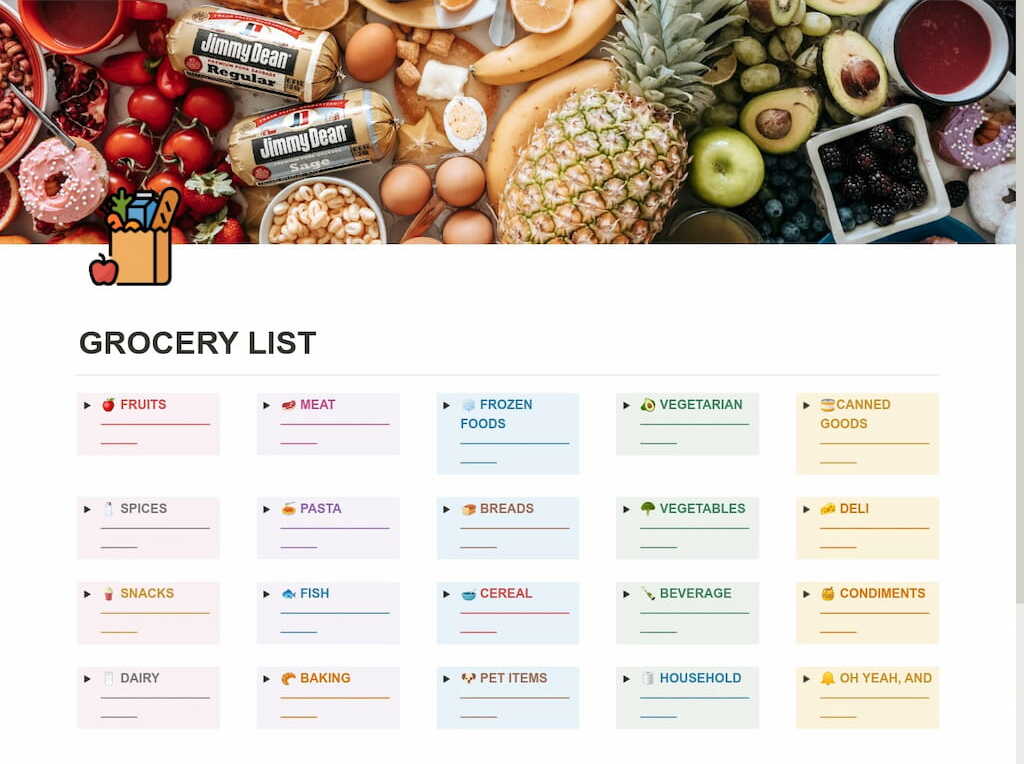 It's not necessary to utilize Notion solely for work-related tasks or for journaling. You may use Notion in your daily life as well. You can toss off the pen and paper and make all of your grocery list notes right on Notion thanks to the Notion Grocery List Planner.
It not only keeps everything more organized, but it also has a really appealing appearance. Not to mention that it will assist you in adhering to your specified budget, timetable, and other parameters.
---
👩‍🎓 Aesthetic Notion templates for students
If you're a student, staying organized and up to date with your studies is of utmost importance. Below, we'll go over some of the best and most aesthetically pleasing templates for students on Notion. Some are paid but to give you a variety, we also explored some free aesthetic Notion templates for students.
---
Aesthetic Minimalist Templates
Keep both your workspace and mind calm with the perfect aesthetic minimalist template. Whether you want a clean black and white theme, or a light and airy theme with negative space – we got you! For more options, check out our post curating some of the best minimalist Notion templates.
Aesthetic Minimalist Quote & Book Tracker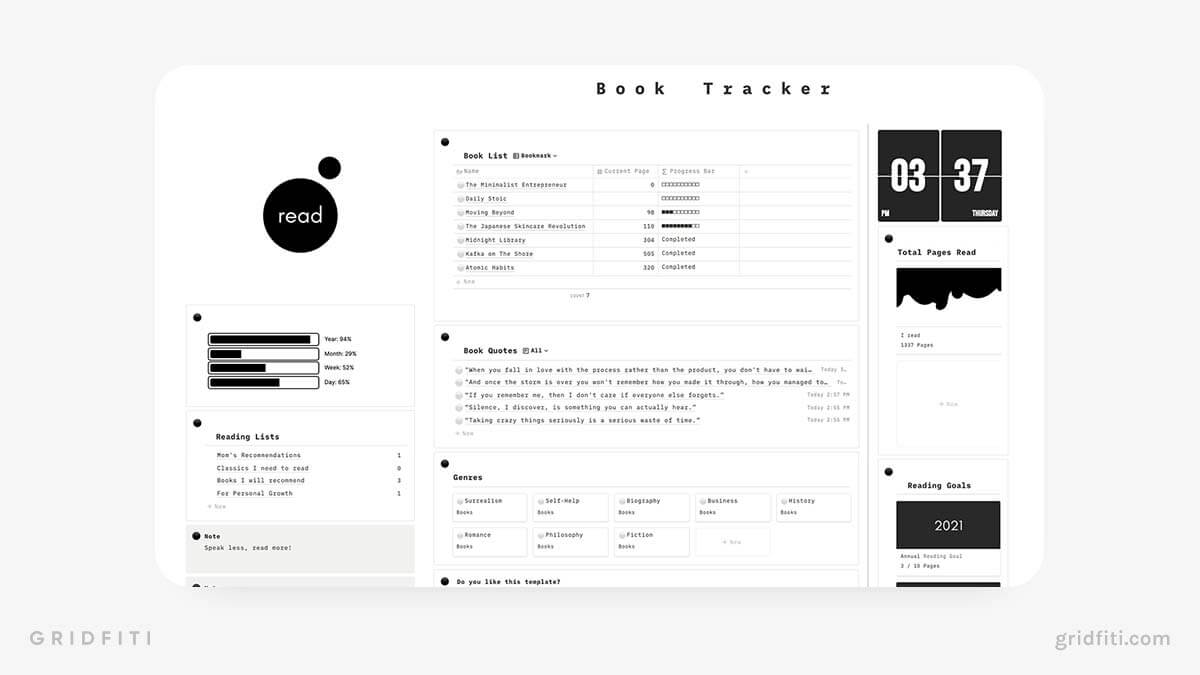 Aesthetic Minimal Life Planner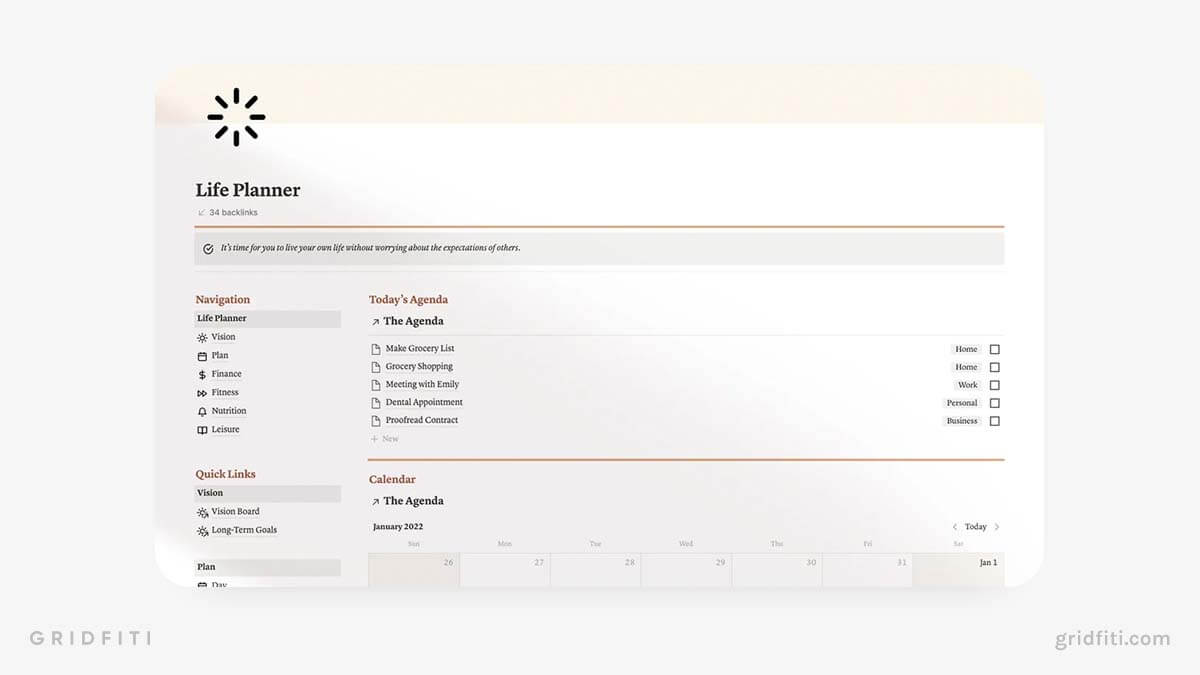 Aesthetic Minimal Notion Habit Tracker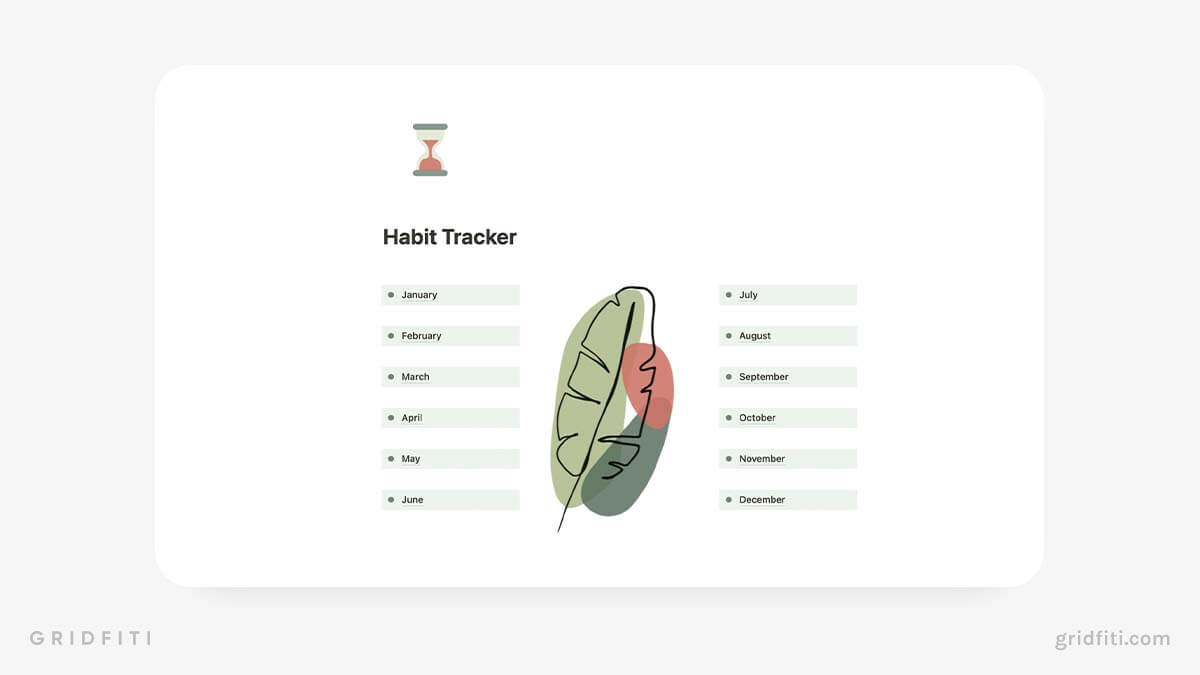 Aesthetic Light & Dark Academia Templates
Bring out your inner book nerd in the most aesthetic way possible with a light or dark academia Notion template!
Looking for more academia templates? Check out our round-up post featuring the best light & dark Notion academia templates!
Light Academia Template – All-in-One System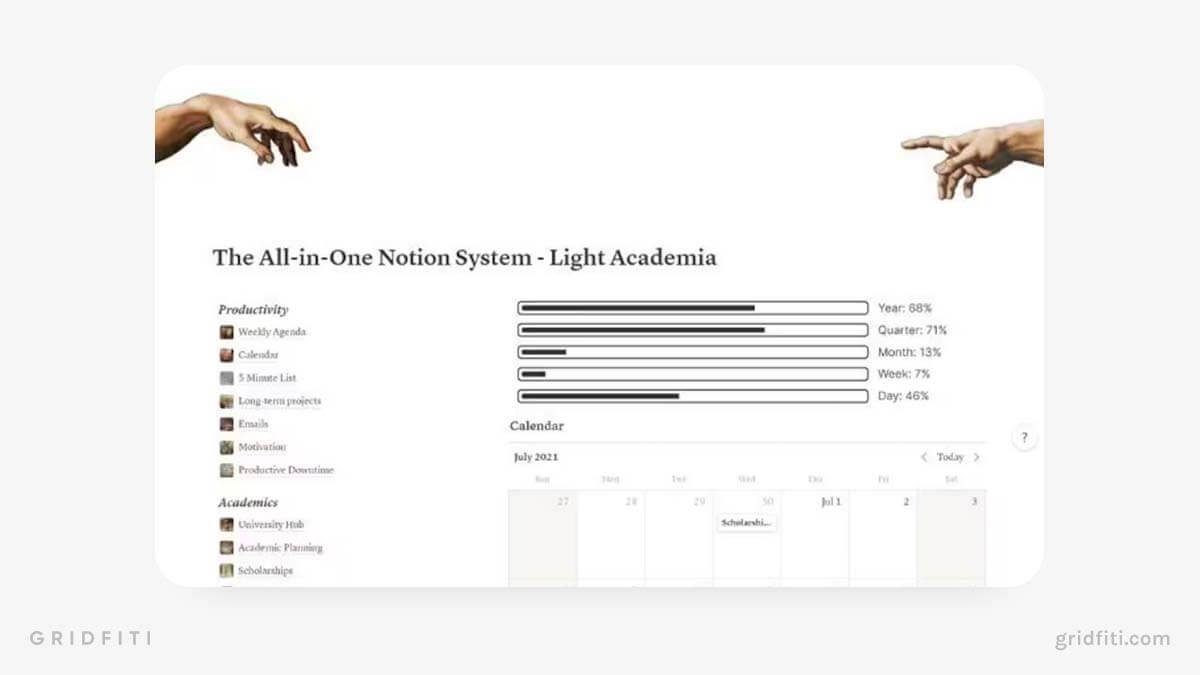 Dark Academia Dashboard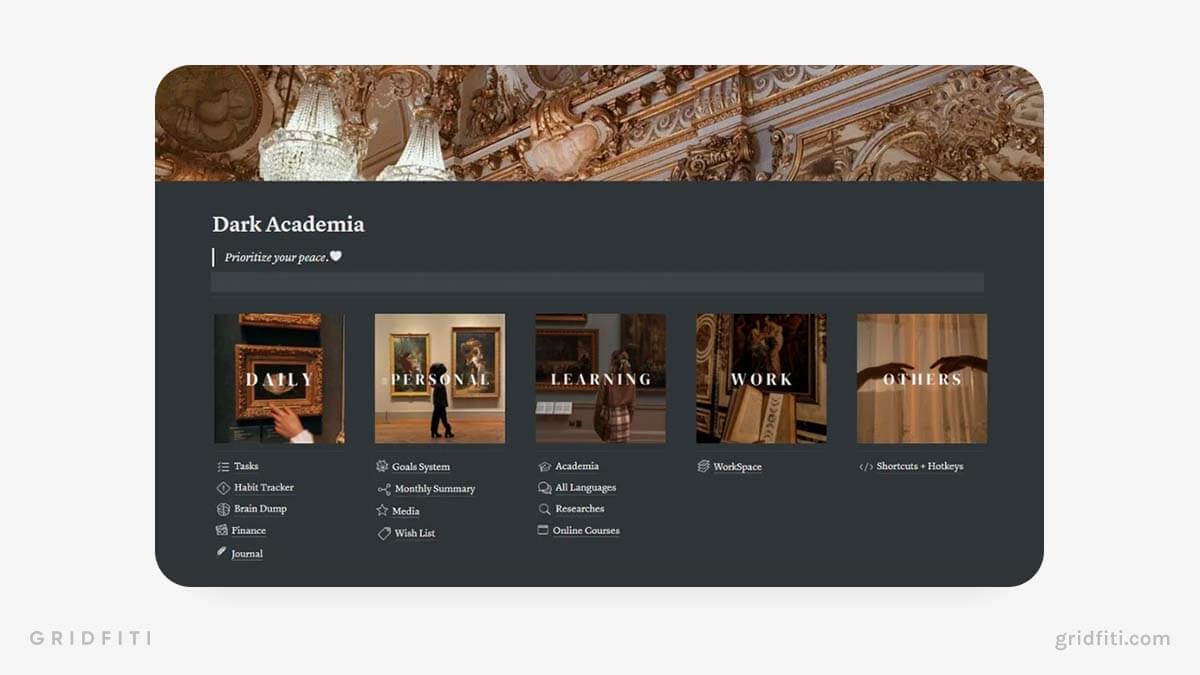 Dark Academia Planner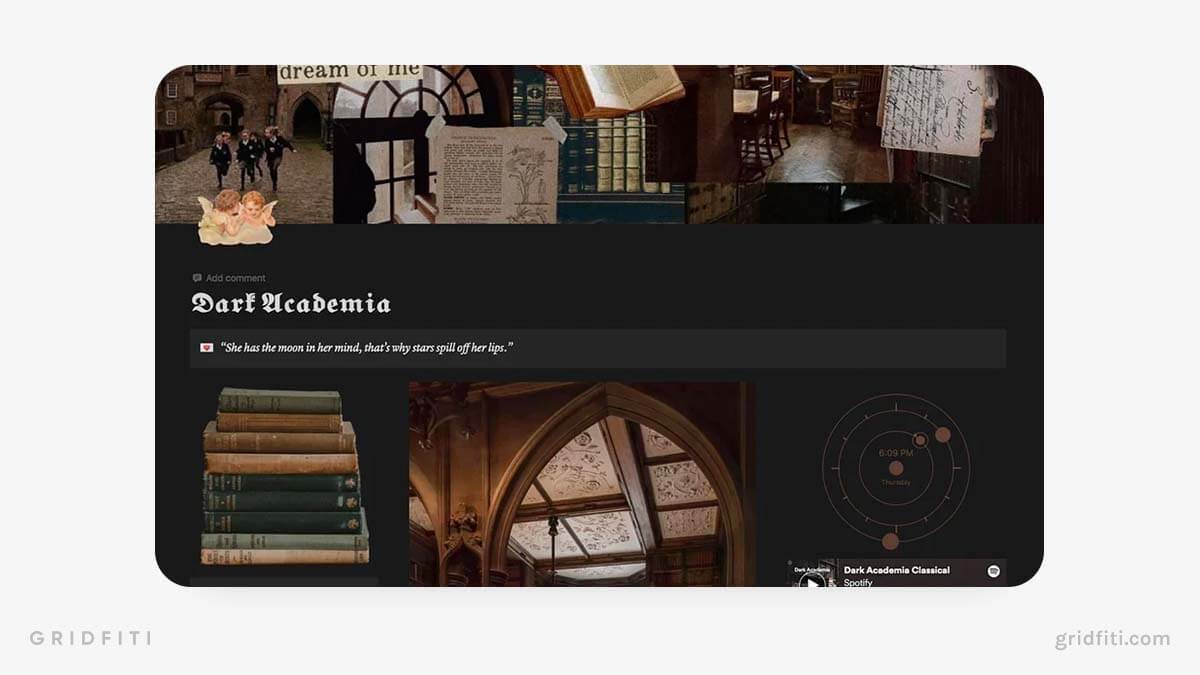 Aesthetic Anime Templates
Some of the most aesthetic Notion templates out there are anime-inspired – and here are some great ones to add to your workspace.
Want more anime templates? We've curated a blog post showcasing the best Notion anime templates!
Complete Studio Ghibli-Themed Productivity Template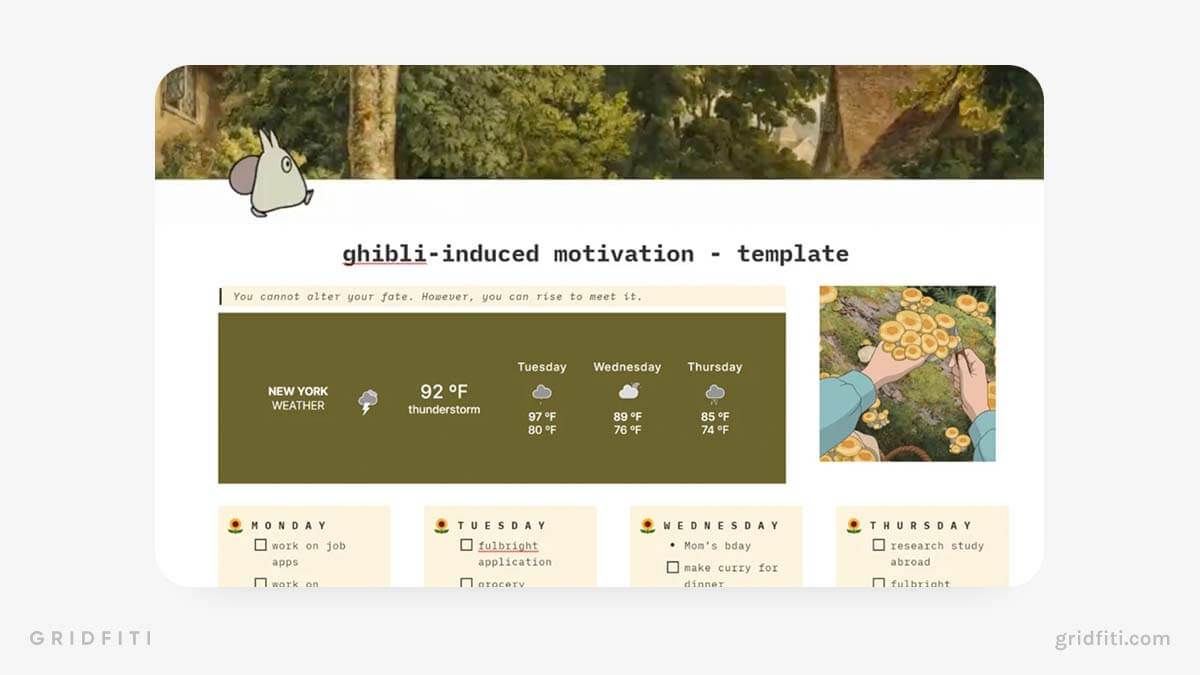 Anime Journal Tracker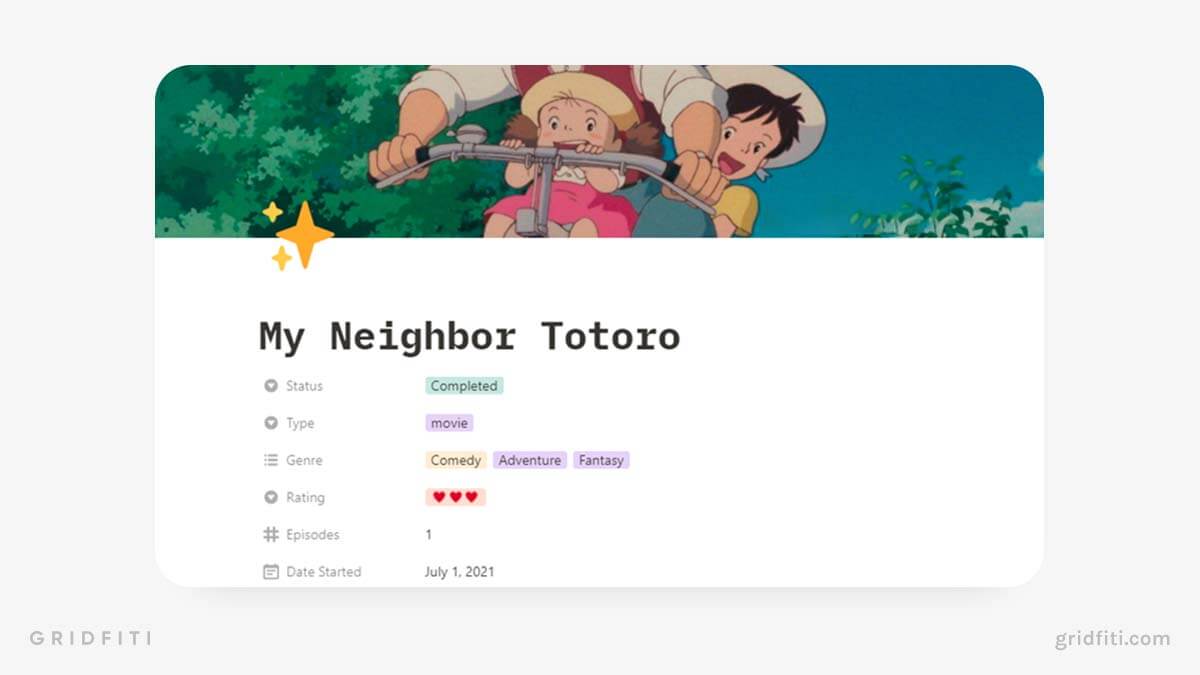 Studio Ghibli-Themed Class Organizer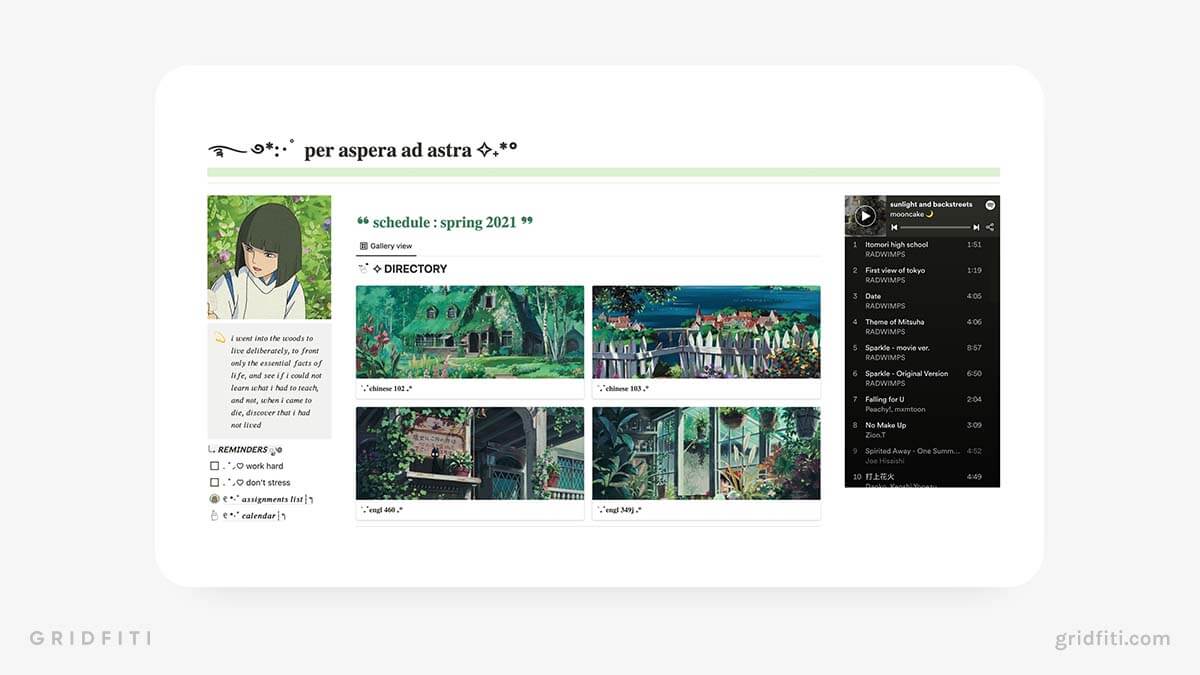 Aesthetic Cute & Kawaii Templates
Pretty up your Notion setup with these cute and kawaii templates! From cute animal characters to illustrated pink icons, there's no shortage of options out there. Want to bring some cuteness to your iPad or iPhone home screen too? Check out our round-up on cute and kawaii iOS app icons!
Cute Notion Dashboard & Client Portal Template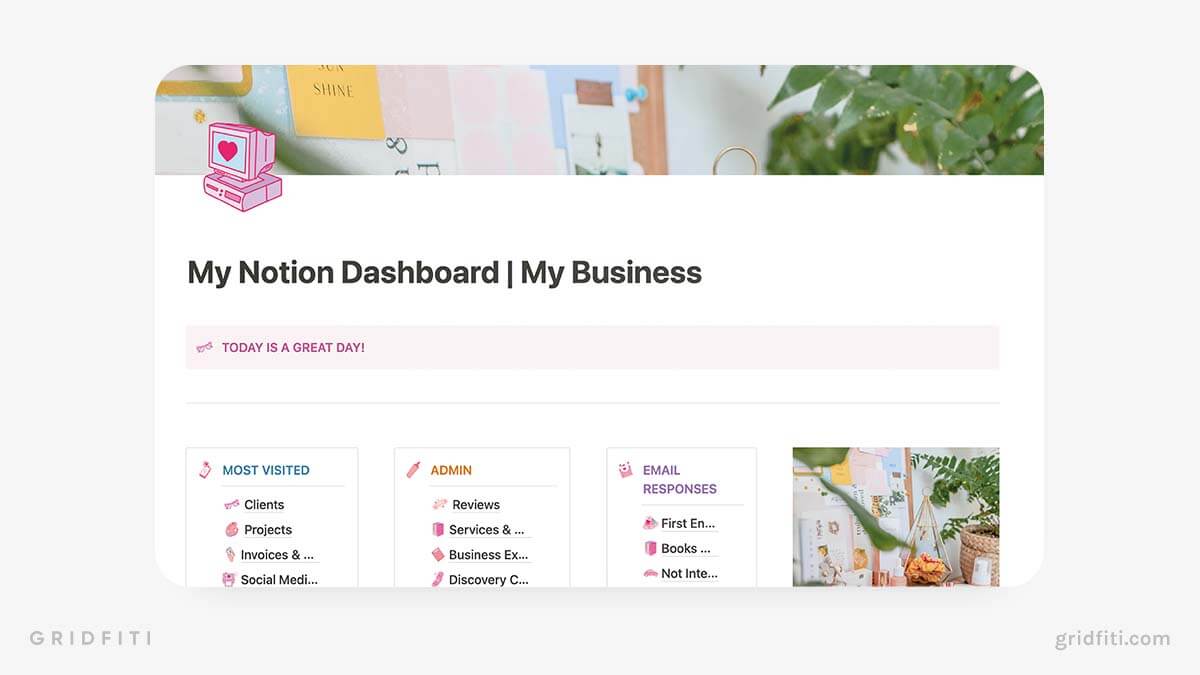 Sumikko Gurashi Notion Dashboard Template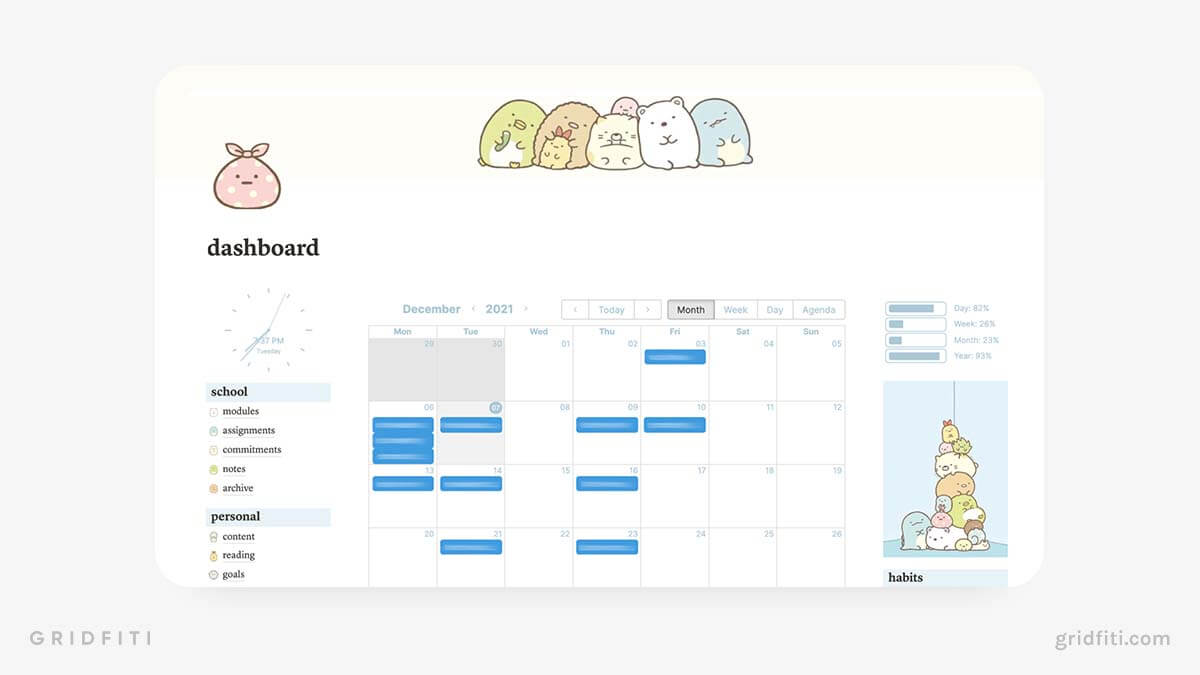 BT21 Notion Dashboard Template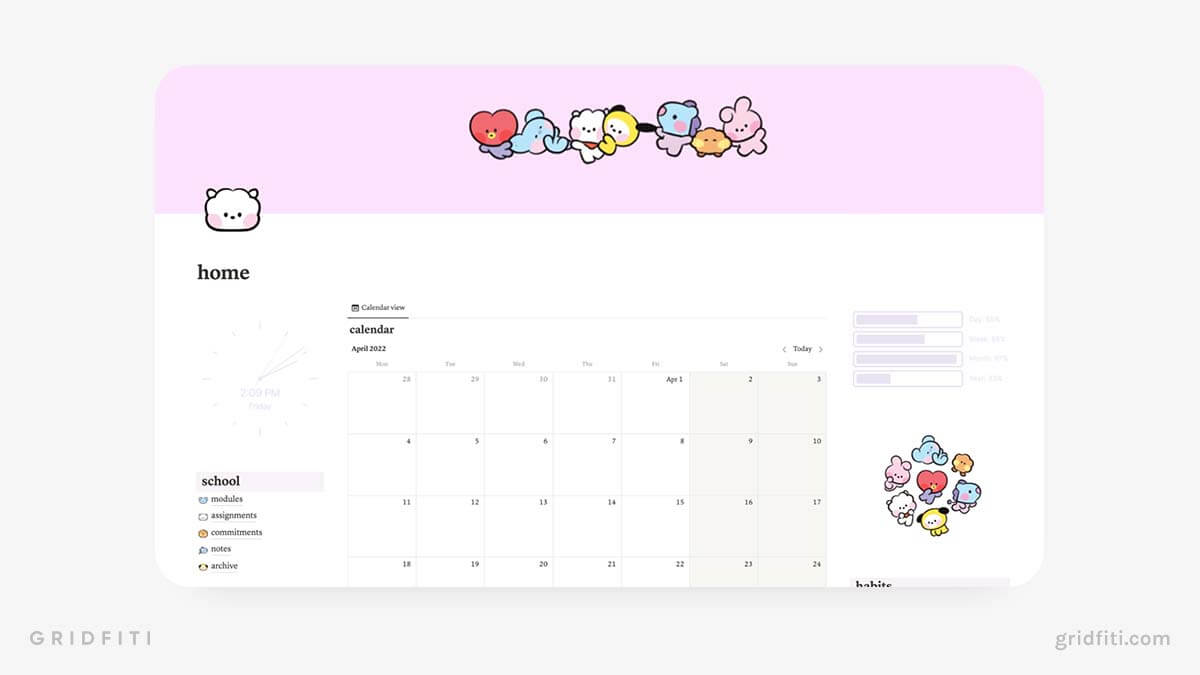 Pink Aesthetic Templates
If pink is your personality, these are the templates for you! Bring your love for the color pink into your Notion workspace with these pink-themed templates.
Pink Notion Nutrition Diary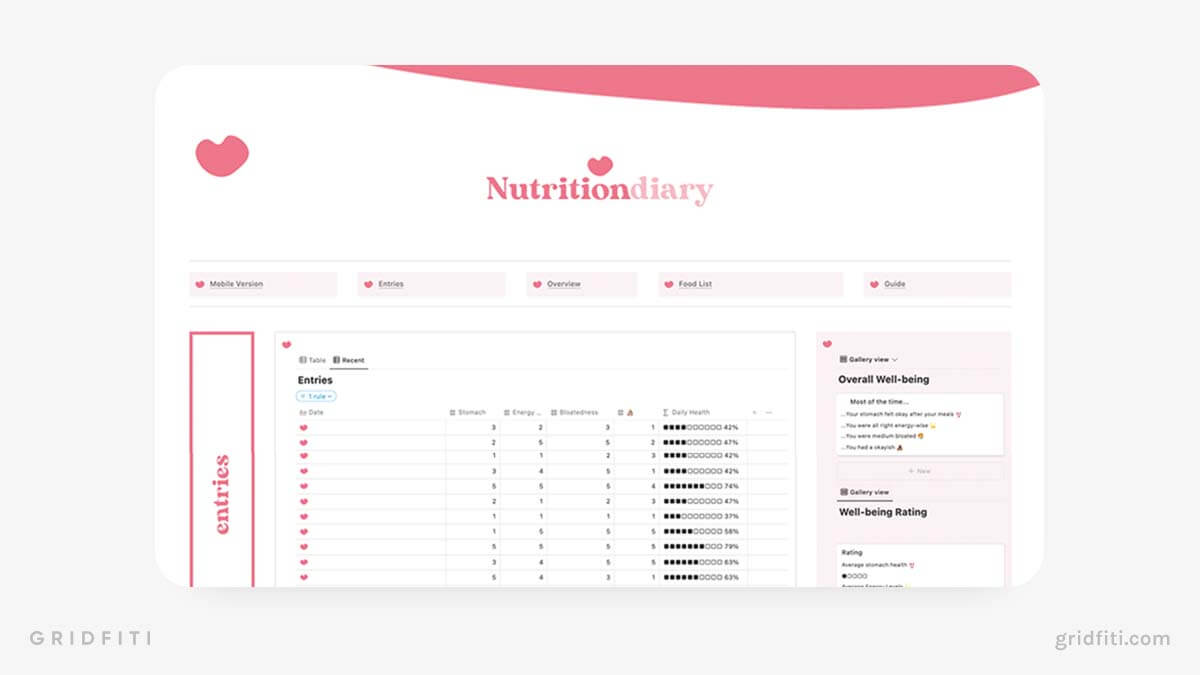 Pink Blossom Life Dashboard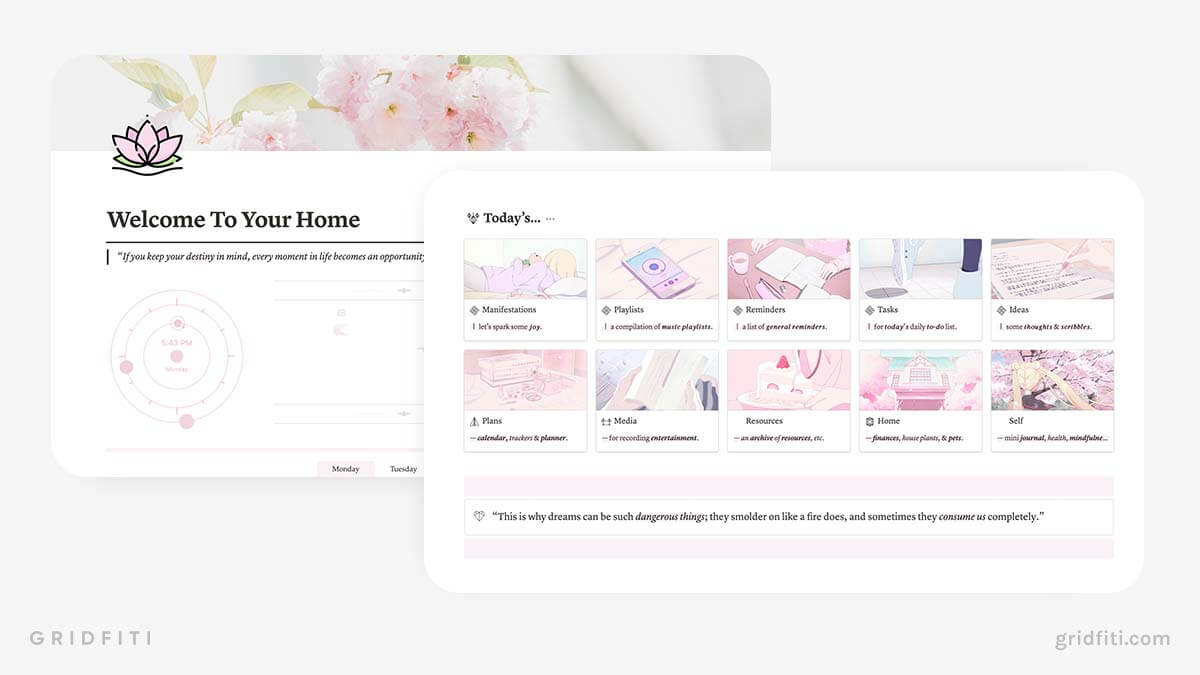 Pink Life Planner Template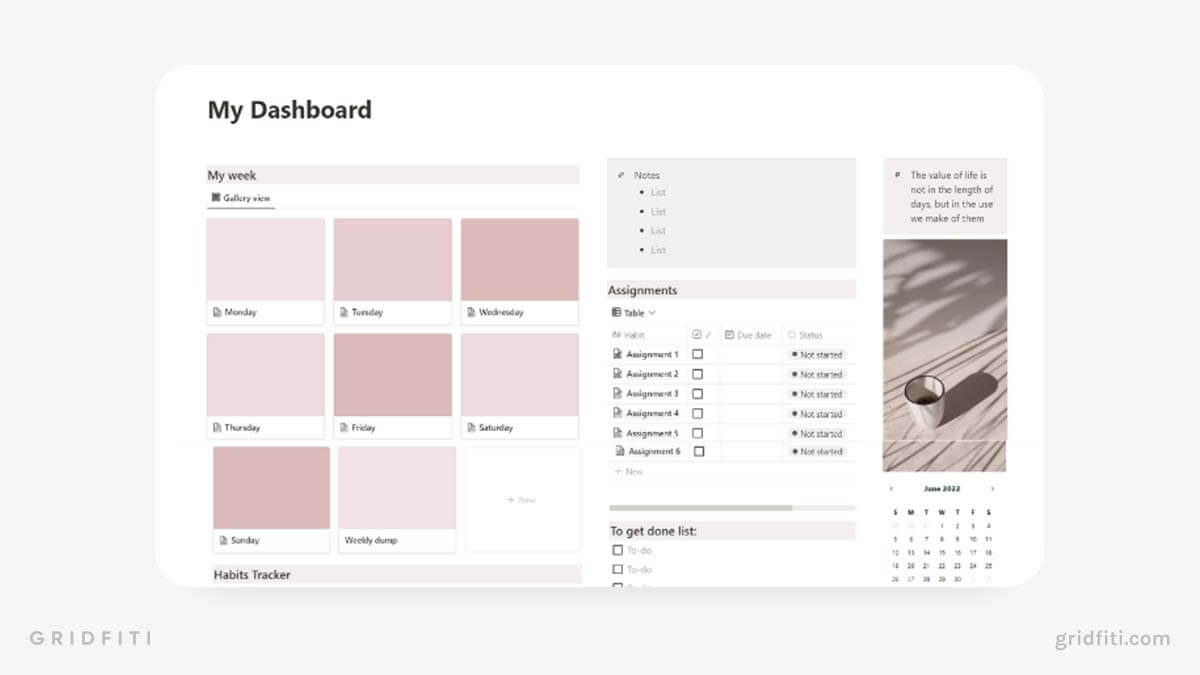 Green Aesthetic Templates
From lush Studio Ghibli scenes to green color palette themes, bring serenity and life to your setup with a green aesthetic Notion template!
Green Studio Ghibli-Themed Dashboard Template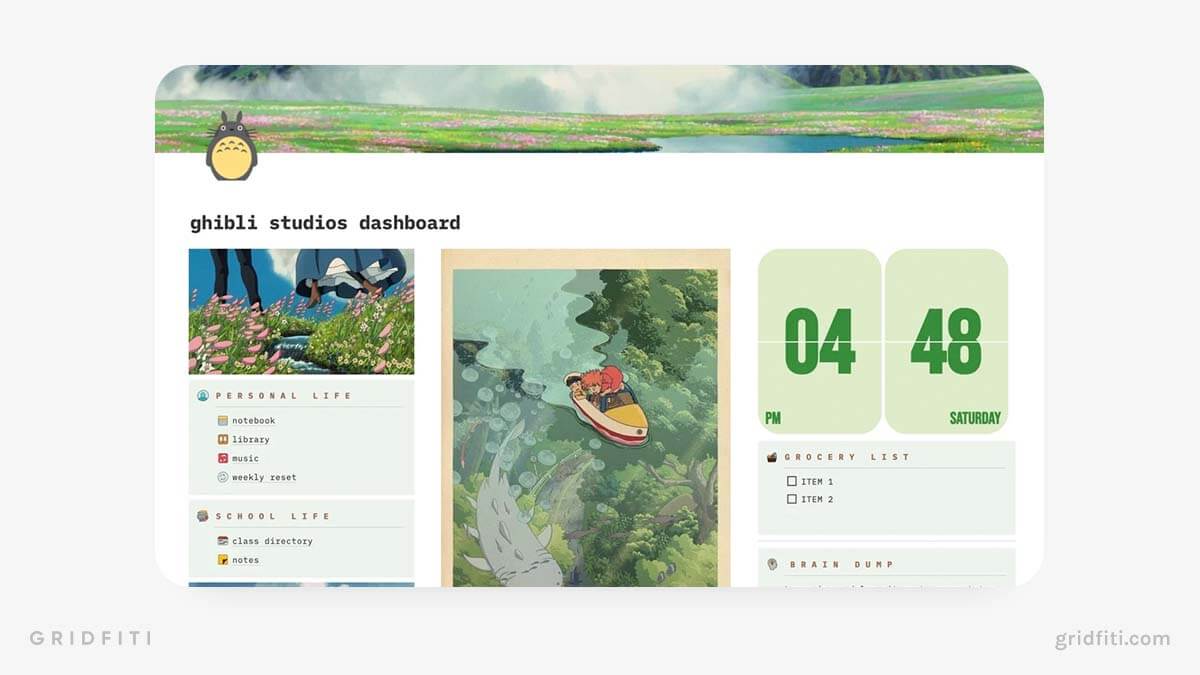 Green Life Planner Template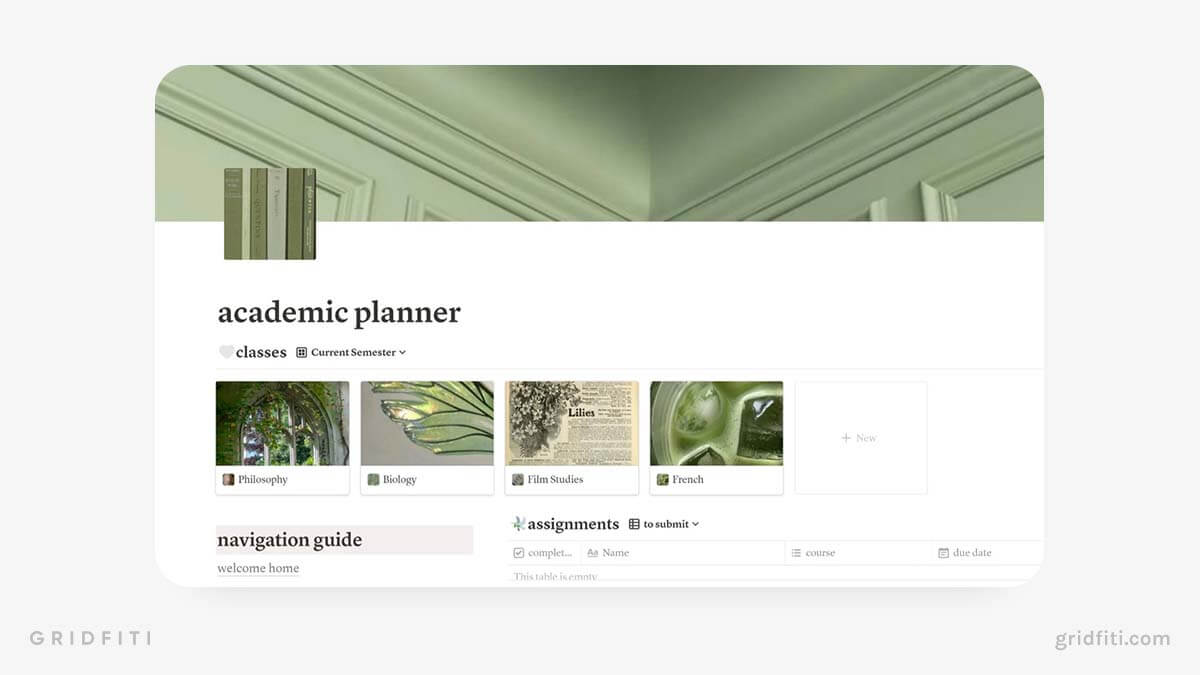 Green Notion That Girl Template
For more templates like this one, check out our post curating the best 'That Girl' Notion templates!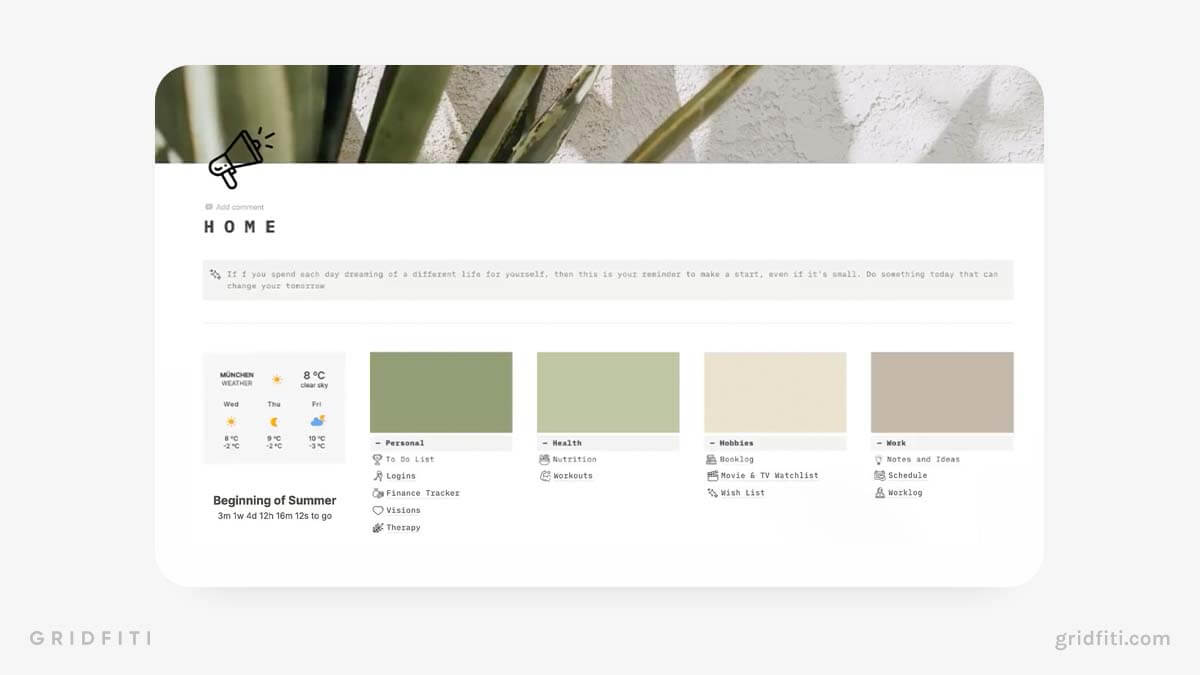 Simple Green Plants Dashboard Template
Want even more plant templates? Swing by our post filled with the best Notion plant tracker templates!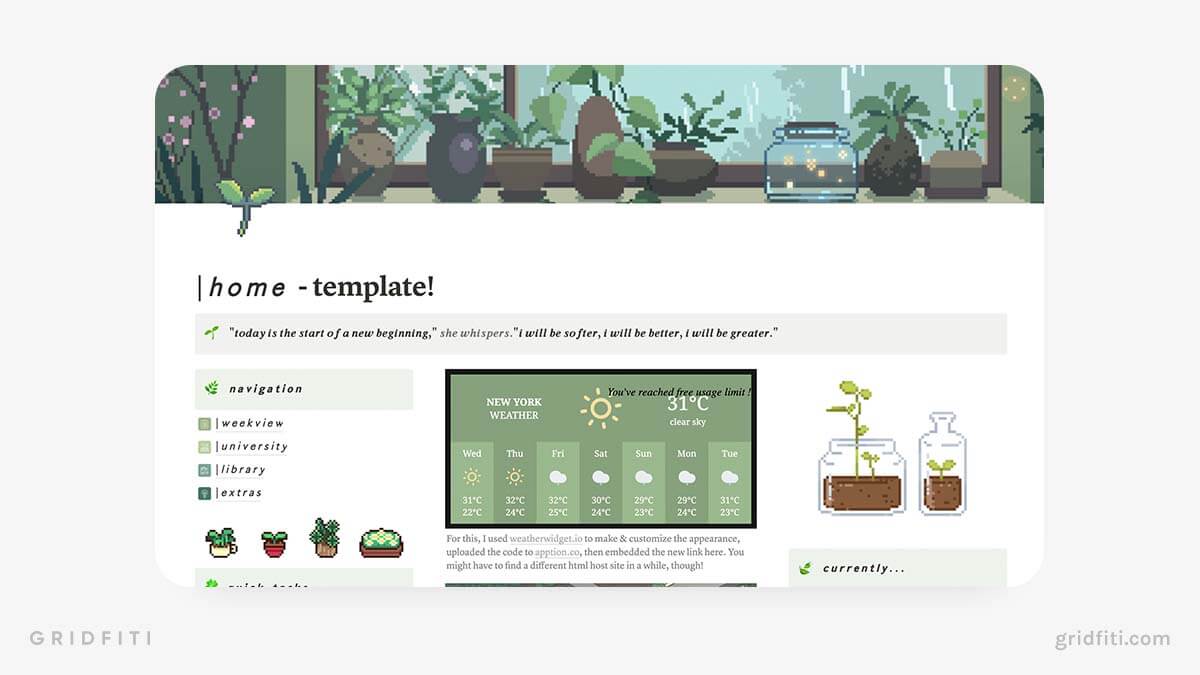 Free & Miscellaneous Aesthetic Templates
Check out these other great aesthetic templates for different Notion use cases! Check out our round-up on free Notion templates for even more options.
---
Aesthetic Notion Themes Ideas & Inspo
Great, now you've downloaded a Notion template, but how do you customize your workspace to take it to the next level? Get some inspo from these aesthetic Notion themes!
Aesthetic Anime Notion Theme Ideas
Whether you're a Studio Ghibli fanatic or Sailor Moon die hard, get inspired by these aesthetic anime Notion themes.
Looking for more anime ideas? Check out our full round-up post featuring the most aesthetic anime Notion templates!
Scenic Studio Ghibli Notion Theme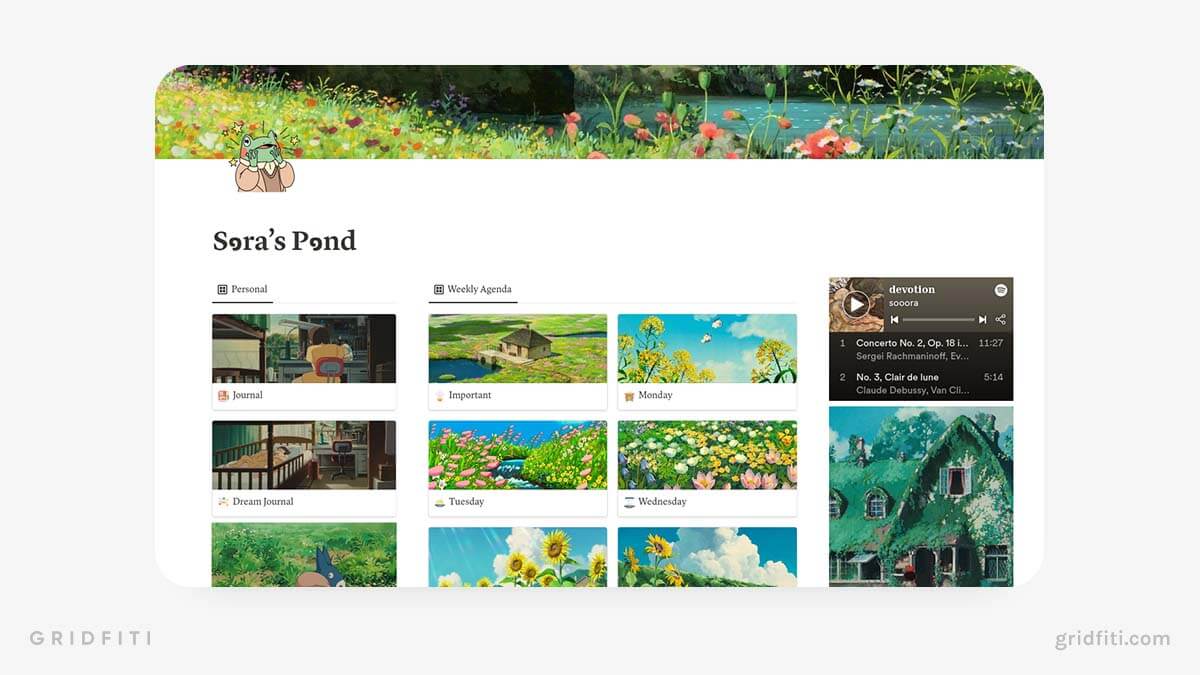 Get our weekly newsletter
Evidence-based guidance, up-to-date resources, and first-hand accounts to help you in your mental health journey, wellness tips, news, and our latest articles and resources.