Freeze Raspberries, there is a simple way to keep fresh raspberries' tart, mouthwatering summer flavor for several months is to freeze them. We'll go over all you need to know to freeze AND use your frozen raspberries in this how-to guide on freezing raspberries.
If you have a lot of raspberries because they don't keep well in the refrigerator, freezing them is a great option to store them we hope you like to freeze Raspberries.
Raspberries and the delightful sweet-tartness of summer go hand in hand. They don't appear to last very long, which is the problem. Raspberries are well known for being fragile. Here is a detailed tutorial on freezing raspberries.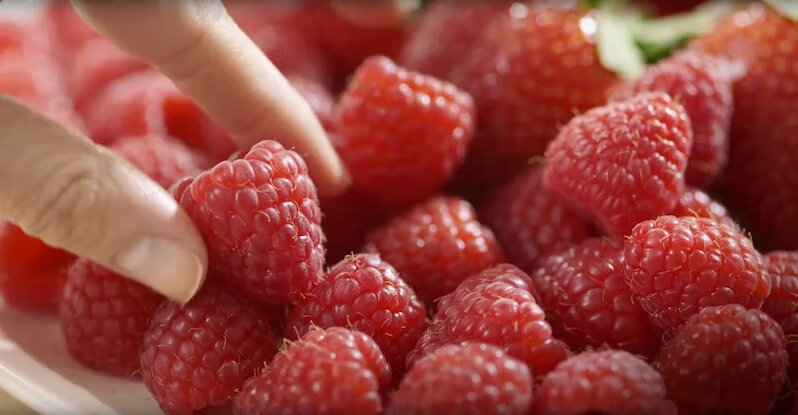 read also: The #1 Fruit for a Longer Life, New Study Says
Steps To Freezing Fresh Raspberries Step by Step
Depending on how many fresh raspberries you have to freeze Raspberries, the procedure is largely hands-off and takes less than 15 minutes in total. If you chance to find raspberries on sale, if you cultivate them, or if you live close to a u-pick farm, this way of preserving them works wonderfully. enjoy the fresh fruit like freeze Raspberries.
read also: Natural Home Remedies For Diabetes
The fundamentals of freezing raspberries are as follows:
Discard any berries that are discolored.
Place raspberries in a colander to wash. Gently rinse 2-3 times in cold water (do not leave them to soak) and allow to drain for about 10 minutes in the colander.
Carefully place raspberries on a paper towel or kitchen cloth to remove excess water.
Gently pat berries dry with a paper towel or kitchen cloth prior to storing them in the freezer. (Note: Make sure they are completely dry, as freezing wet berries can cause frost damage).
Arrange washed, drained raspberries on a cookie tray lined with wax paper. Make sure the berries do not touch. This will help the raspberries keep their shape and prevent them from clumping together.
Place tray in the freezer for a couple of hours. The amount of time it takes for your raspberries to freeze will depend on the amount you're freezing and the strength of your freezer. Check on the raspberries every half hour until they're hard and frozen throughout.
Once the individual raspberries are frozen, dump them into an airtight, freezer-safe bag or container. If using a freezer bag, it should be thick enough to prevent the raspberries from freezer burn.
Label the containers or bags with a name and date so you'll be able to easily find them when you need them and know exactly how long they've been frozen.
read also: 10 Incredible Benefits Of White Tea
How Long Do Frozen Raspberries Last
The lifespan of frozen raspberries in the freezer is up to a year with correct handling and storage. The sooner you use them, the fresher they'll taste, just as with all frozen meals.
Although frozen raspberries don't go bad, we've discovered that when they approach the one-year mark, they may be severely freezer scorched and have a slight "freezer" taste.
If you have a vacuum sealer, frozen raspberries could last up to 18 months.
read also: Best Vegetables for Your Liver, Say Dietitians
FAQs About How To Freeze Raspberries
Can raspberries be frozen whole?
Raspberries may be frozen whole with ease; if desired, they can also be mashed with sugar before freezing.
Should you freeze sugar-dipped raspberries?
It's not required, but if you have a batch of raspberries that are really sour or underripe, you may. Depending on the sweetness, we use 2 tablespoons of sugar for 1 cup of raspberries.
Before freezing raspberries, do you wash them?
Yes, before freezing raspberries, we advise giving them a gentle rinse.
How well do raspberries freeze? In the freezer, raspberries stay fresh for 8 to 12 months!
How are raspberries handled in the freezer?
In a glass or plastic freezer-safe container or plastic bag, frozen raspberries can be kept.
How freeze raspberries defrosted?
Just the amount of raspberries you'll need should be measured, and they should only be allowed to thaw for 45 minutes at room temperature or 4 hours in the refrigerator. For optimal results in baked items, keep raspberries frozen.
Get our weekly newsletter
Evidence-based guidance, up-to-date resources, and first-hand accounts to help you in your mental health journey, wellness tips, news, and our latest articles and resources.